This is where the proposed soccer stadium will stand at Willets Point. The photo was taken on Oct. 23, 2019 prior to an NYCFC MLS Cup playoff game. (FrontRowSoccer.com Photo)
By Michael Lewis
FrontRowSoccer.com Editor
An announcement for soccer-specific stadium for New York City FC just might closer than we think.
In fact, it could happen as early as this week.
There are rumors that the MLS club might hold a press conference this week, perhaps as early as Wednesday, to announce more concrete plans for a stadium in Queens, N.Y.
One source familiar with soccer in the city said that could be the case. Team officials and owners, New York City Mayor Eric Adams and various city and Queens politicians and officials would be expected to attend the presser.
NYCFC officials have not responded on the matter.
The stadium would be built at Willets Point, across the street from Citi Field.
That construction site was supposed to be where Queensboro FC was to erect its stadium, but according to sources, the club is defunct and won't be competing in the USL Championship.
NYCFC has been involved in behind-the-scenes negotiations with Queensboro FC to try to secure the land. QBFC originally had planned to use York College as its home while the Willets Point venue was being built.
Of course, saying a stadium will be built and completing the job, especially in New York City, where there are many hoops to jump through and regulations to follow. So, it could take a minimum of two to three years and possibly more to get it done.
Like it or not, that is the nature of the beast. Ask anyone who wants to build anything in the city these days.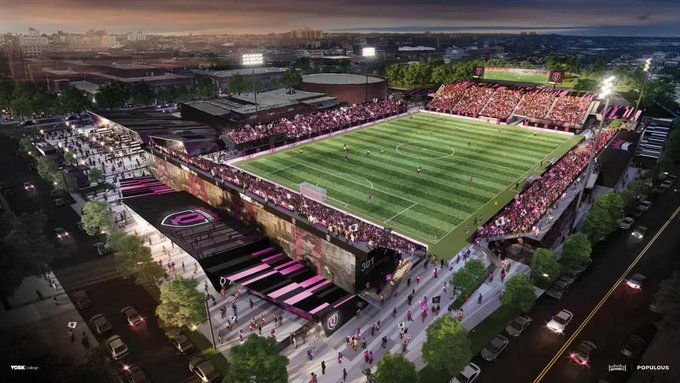 This is an artist's rendering of Queensboro FC's stadium at York College. (Photo courtesy of QBFC)
Needless to say, a stadium for the eight-year club has been a long-time coming.
Since making its debut in 2015, City has called Yankee Stadium home, with hopes of finding a home of its own within a few years. The Cityzens recently completed their eighth season after capturing the MLS Cup last year.
This past season, NYCFC was forced to use six venues in four states as home fields.
Besides Yankee Stadium, City has called Banc of California Stadium (Los Angeles), Red Bull Arena (Harrison, N.J.), Rentschler Field (Hartford, Conn.) and Belson Stadium and Citi Field (both Queens).
In 2012, MLS tried to get a soccer-specific stadium built in the middle of Flushing Meadow-Corona Park near Citi Field. It was met with local opposition from community leaders and never and never came to fruition.
Returning to what MLS commissioner Don Garber, a Queens, N.Y. native, by the way, said during a Q&A after his state of the league address prior to the MLS Cup in Los Angeles last week, perhaps he did not want to let the cat out of the bag just then at MLS Cup and he wasn't sounding coy at the time.
This is what I asked Garber:
"Earlier this year, there were reports that a NYCFC Stadium was going to be built soon or at least there will be plans for it. I have a three-part question. So you might be ready to write this down. First of all, very basically, could you give us a general update? That's part one. Part two. NYC FC, the defending champions, was forced to play in six different venues this year in what they call home. What sort of a look is that for the defending champions and the league itself? And here it is their eighth season in the league. They're still playing a baseball stadium, a baseball park.  Did you think it was going to take this long and even longer to get them soccer-specific Stadium in New York City? Thank you."
Here is what Garber said in response:
"When we granted the team to New York City, we were on the cusp of finalizing a deal with the City of New York, and we had anticipated finalizing that. For reasons that you know, and most people are aware of, that deal never closed.
"With that being said, I'm proud of what's gone on in New York. I think we've got a great rivalry with the Red Bulls. We've got a championship team that's doing wonderful things to build soccer affinity for soccer fans in a very large city.
"It's not optimal to not have your home. It's not anything that MLS ever intends to do. I think you probably have been around to know and understand that.
"What I will tell you, having stood in front of many of you for over 20 years, developing stadiums is an enormously difficult process for anyone. When you want to be as close to an urban environment as possible, it's even more difficult, and doing it in cities like New York and Miami and Los Angeles, border on being impossible, but we have always powered through. We've always gotten deals done.
"I could always stay here years later and say, don't ask me about Miami anymore as we're building a stadium in Miami. I'm confident that we'll have a stadium in New York City.I think all of us will look back on the challenges of getting to this point as the NYCFC 1.0. When they're playing in a beautiful stadium that I think will be spectacular, if they're able to get it over the finish line, we'll be very proud of it."
Hmmm. Perhaps Garber wasn't being coy just for the sake of it, given the latest bit of information.
We'll just have to wait and see if a NYCFC press conference pans out. With the World Cup kicking off on Sunday, a press conference during that competition could get swept away in other big soccer news. It will be interesting to see if everything in the behind-the-scene negotiations are smoothed out.
If a press conference does come to fruition, it will be an important first step in the right direction toward the club getting a stadium it can call its own.