NEW YORK – Major League Soccer Tuesday announced that Toronto FC defender Justin Morrow has been named the 2021 MLS WORKS Humanitarian of the Year.
Morrow, who dressed for the final match of his career when Toronto FC faced CF Montréal in the Canadian Championship on Sunday, Nov. 21, has been a game-changer on the field and in the community during his 12-year MLS career.
He was a driving force in launching Black Players for Change, an organization of more than 170 MLS players, coaches and staff working to bridge the racial equality gap. Morrow has served as the executive director of BPC since its inception in 2020.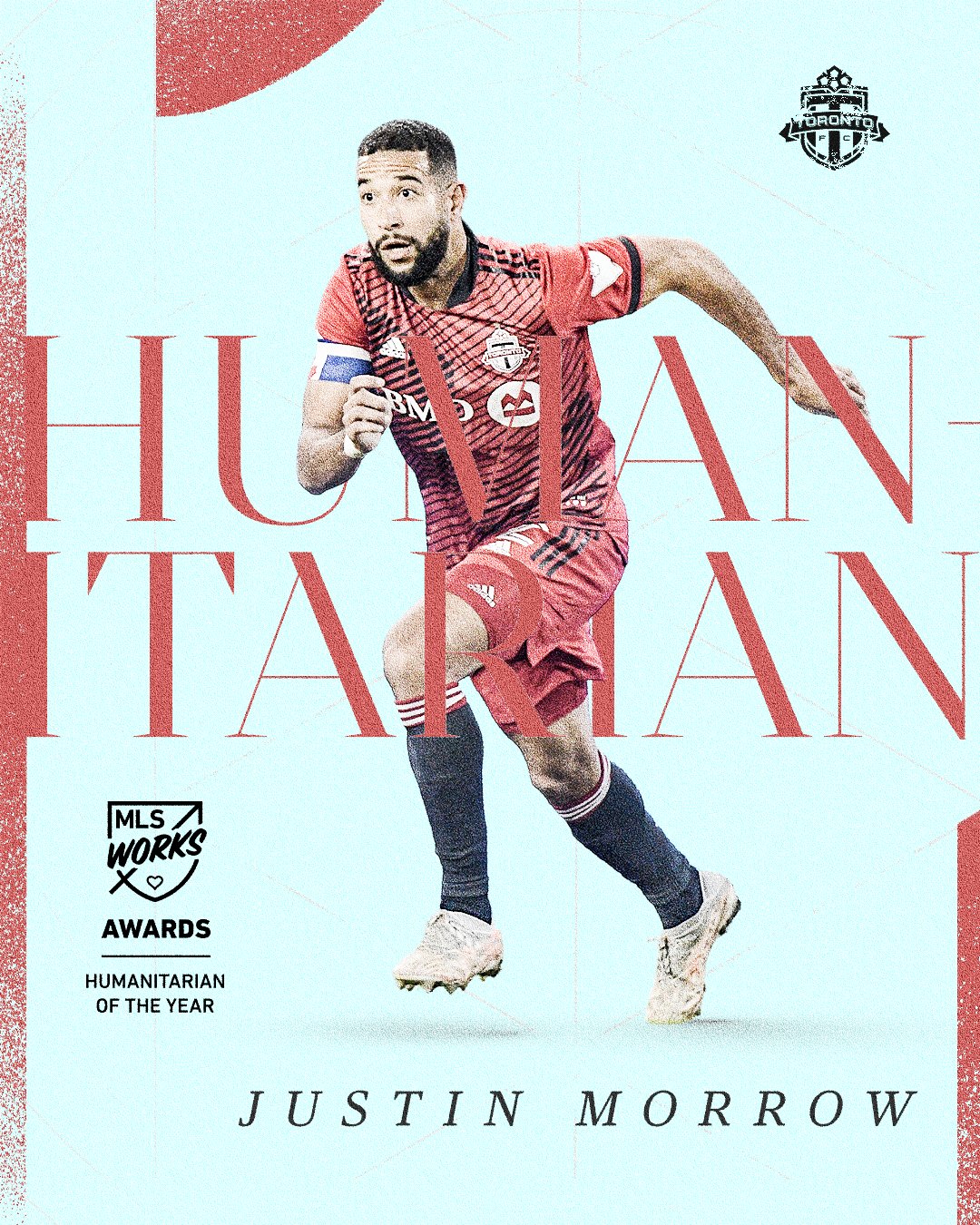 In Toronto, Morrow supported MLSE Foundation's Change the Game campaign by raising funds and creating awareness about systemic barriers that prevent youth from reaching their potential. Morrow was integral in working to allocate fundraising dollars to Foundation For Black Communities, Canada's first-ever philanthropic foundation dedicated to investing in Black communities.
Morrow is a member of the More Than A Vote coalition, which has taken tangible steps to encourage civic engagement and remove barriers to vote. With Morrow's leadership , BPC, MLS and the MLS Players Association launched a leaguewide, non-partisan initiative to drive voter registration for players, fans, and club and league personnel in 2020.
The initiative resulted in the closing of league and club offices on Election Day, the opening of various stadiums for in-person voting, and the registration of more than 95 percent of MLS players who were eligible to vote. Over the past year, Morrow has continued his work to improve voter registration numbers among his MLS peers and has taken time to meet with league staff at all levels to discuss the initiatives he and BPC are focused on.
In recognition of Morrow's humanitarian efforts, MLS WORKS will donate $5,000 to the DeRo Foundation.
MLS WORKS Humanitarian of the Year Winners
2021: Justin Morrow (Toronto FC)
2020: Black Players for Change
2019: Matt Lampson (LA Galaxy)
2018: Matt Lampson (Minnesota United)
2017: Ryan Hollingshead (FC Dallas)
2016: Matt Lampson (Chicago Fire)
2015: Kei Kamara (Columbus Crew SC)
2014: AJ DeLaGarza (LA Galaxy)
2013: Matt Reis (New England Revolution)
2012: Chris Seitz (FC Dallas)
2011: Zak Boggs (New England Revolution)
2010: Seth Stammler (New York Red Bulls)
2009: Jimmy Conrad (Kansas City Wizards); Logan Pause (Chicago Fire)
2008: Jose Burciaga Jr. (Colorado Rapids)
2007: Diego Gutierrez (Chicago Fire)
2006: Michael Parkhurst (New England Revolution)
2005: Brian Kamler (Real Salt Lake)
2004: Chris Henderson (Colorado Rapids)
2003: Ben Olsen (D.C. United)
2002: Steve Jolley (MetroStars)
2001: Tim Howard (MetroStars)
2000: Abdul Thompson Conteh (San Jose Earthquakes)