KANSAS CITY, Mo. – United Soccer Coaches has announced the election of three individuals as the newest members of its Hall of Fame. All three will be inducted as members of the Class of 2022 during the 82nd Annual United Soccer Coaches Convention, January 19-23, in Kansas City, Mo. Jan. 19-23.
Rob Nye, longtime men's coach at the College of Wooster in Ohio, Michael Pantalione, legendary junior college coach at Yavapai College in Arizona and Jeffrey Tipping, former coach at Muhlenberg College in Pennsylvania will be honored at the annual Awards Banquet Jan. 21.
They will become the 72nd, 73rd and 74th inductees into the United Soccer Coaches Hall of Fame, established in 1991 to honor achievement by coaches with an emphasis on success and a lifetime devotion to the association and the game.
"Our Hall of Fame is filled with legendary coaches with distinguished careers and this year we continue that tradition," said Dr. Melissa Price, 2021 United Soccer Coaches President. "This latest group of prestigious coaches are leaders and mentors who have inspired countless players to achieve excellence on and off the field. I am grateful to Bob, Michael and Jeff for their service to the game and acknowledge their contributions to our sport and this association. It is with immense joy and respect that I congratulate them on this career honor."
Nye, who passed away in 2014, was elected via the Veterans balloting of the Hall of Fame Committee and will be honored posthumously. He served as the Head Coach at College of Wooster from 1964-94, compiling a career record of 269-188-41 (.581). He led the Fighting Scots to five Ohio Athletic Conference championships, one North Coast Athletic Conference title and coached 16 All-Americans. His teams reached the NCAA Division III Tournament 12 times.
Robert Nye
Nye was one of many student-athletes from his era who graduated from Springfield College in his Massachusetts hometown and then went on to pioneer the sport of soccer in the United States. He was a tireless leader and long-time volunteer for what was then the National Soccer Coaches Association of America, where he rose to serve as President of the organization in 1980-81. In recognition and gratitude for his service, the association bestowed him with its Honor Award in 1992 for contributions to the game. Previously he was inducted into Halls of Fame for Wayne County (Ohio), the College of Wooster and Springfield College.
Pantalione will become the first member of the Hall of Fame who coached primarily at a two-year institution during his career. The Philadelphia native retired in January from Yavapai College in Prescott, Ariz., where he started the Roughrider soccer program in 1990. He was one of the most successful Junior College coaches in history, compiling a 31-year career record of 636-63-30 (.893). His winning percentage ranks in the top three amongst college coaches at any level. He also holds the distinction of being the only retired coach at any level to average over 20 wins per season over his career. During his tenure, Yavapai captured seven National Junior College Athletic Association Championships and 19 appearances in the final four.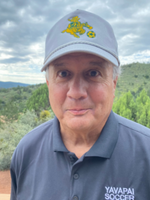 Michael Pantalione
Pantalione received 12 National Coach of the Year awards and was the West Region Coach of the Year 18 times. A member of United Soccer Coaches since 1978, he has been the recipient of its Letter of Commendation (2014) and the prestigious Bill Jeffrey Award (2015) for long-term service to intercollegiate soccer and the association. He was chair of the Junior College Rankings Committee for 23 years and was the first active coach inducted in the NJCAA Soccer Hall of Fame in 2006.
Tipping, a native of England, entered coaching after a standout collegiate career at Hartwick College that included an NCAA Division I National Championship. He served as the men's coach at Muhlenberg College in Pennsylvania for 16 seasons (1986-2001), compiling a record of 225-71-21 (.743). He led the Mules to three Centennial Conference championships and eight trips to the NCAA Division III Tournament including an appearance in the final four in 1995. He was a three-time United Soccer Coaches Region Coach of the Year.
Jeff Tipping
In 1983, Tipping was asked to join the United Soccer Coaches Academy as an instructor and became one of the top coaching educators. He left Muhlenberg to become the association's full-time Director of Coaching Education from 2002-11. During his tenure, he introduced the Premier Diploma, started the association's Master Coach Course and expanded educational offerings to include multiple levels of certification courses for goalkeeping coaches. He increased diversity amongst coaching instructors by identifying and appointing women and coaches of color to the National Academy Staff. He was named the association's Honor Award recipient in 2014.
The United Soccer Coaches Hall of Fame was established in 1991 to honor achievement in coaching, work on behalf of the association and lifetime contributions to the game. Each year, up to three inductees are elected into the association's Hall of Fame based on selections made through the balloting of a Hall of Fame Committee including previous honorees.