Thompson Usiyan, a former Nigerian international who set NCAA scoring records at Appalachian State University and competed in several U.S. professional soccer leagues for 15 years, passed away Aug. 31.
He was 65.
Usiyan's cause of death was not immediately known.
Ray Weber of the SD Indoor Soccer Strikerz announced Usiyan's death on his Facebook page.
"On behalf of our SD Indoor Soccer Strikerz family, I'd like to offer our condolences to past San Diego Sockers great, a friend to all, Thompson Onoramie Usiyan, who passed away today," Weber wrote. "Thompson made San Diego his home by choice too after his brilliant playing career ended in the 90's.
"He was a truly superb player, a wonderful guy, always a smile, and a gentleman to AL. Past Sockers great and teammate and Strikerz player and our dear friend too Ben Collins, was extremely close to Tomo and this is a very, very hard time for Ben too.
"Our love to Tomo, Ben and to all family, friends and fans. We will never forget him and his impact that he had on us all."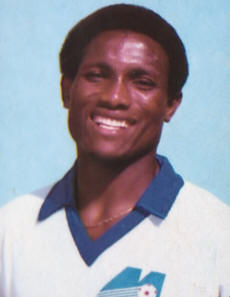 Thompson Usiyan
Born in Effurun, Nigeria April 27, 1956, Thompson was a member of the Nigerian team that qualified for the 1976 Montreal Olympics. The Super Eagles traveled to Canada, but did not play in the competition because African nations boycotted the Summer Games.
Usiyan attended Appalachian State, setting an NCAA record of 109 career goals under Hank Steinbrecher, who went on to become secretary general of U.S. Soccer. He also set records for career points (255), goals in a season (46 in 1980) and points in a season (108 in 1980).
He performed in the North American Soccer League, the NASL indoor circuit, the first United Soccer League, Major Indoor Soccer League, American Professional Soccer League, Canadian Soccer League and Continental Indoor Soccer League.
Usyian made his pro debut with the Montreal Manic in 1981, scoring 21 goals in 58 appearances over two seasons before playing for the Tulsa Roughnecks from 1983-84 before the NASL folded. The Nigerian found his range as a lethal indoor player, scoring less than a goal a game clip. He filled the net for the San Diego Sockers, Minnesota Strikers, Los Angeles Lazers, St. Louis Storm, St. Louis Ambush and San Jose Grizzlies.
He also played the 1991 CSL season with the Hamilton Steelers in 1991.
After scoring 19 goals for the Grizzlies in 1995, Usiyan retired.
Usiyan, who also played several matches with the Nigerian national team, most recently lived in San Diego and was a tax consultant.