Derrick Etienne Sr. (center) with Derrick Jr. and Danielle at the cusp of their youth soccer careers. (Photo courtesy of the Etienne family)
By Michael Lewis
FrontRowSoccer.com Editor
Whether it's for the holidays, a family reunion or a wedding, when the entire Etienne family gets together, there is a very good chance a soccer game will be played.
And it won't be one of these family friendlies or a kick around. It will be a competitive one.
Derrick Etienne Sr. dubbed it the Etienne Classic, and judging by its participants, you will understand.
"My generation, down to the kids, if we would ever get together and play a [11 v 11] game, we've got a good starting 11," Derrick Sr. said.
He wasn't kidding or bragging, although bragging rights might be on the line.
The dynamic duo, the Etienne twins. (Photo courtesy of the Etiennes)
Derrick Sr. and his twin brother Darrell, both former Haitian internationals, played with the Richmond Kickers and the Long Island Rough Riders. Derrick's son, Derrick, Jr. is a member of the current Haiti squad and of the Columbus Crew. His daughter Danielle plays for the Haitian women's national squad when she is not attending and performing for Fordham University.
Omre Etienne, Darrell's son, played for the Haitian Under-17 national team at the Concacaf -17 Championship.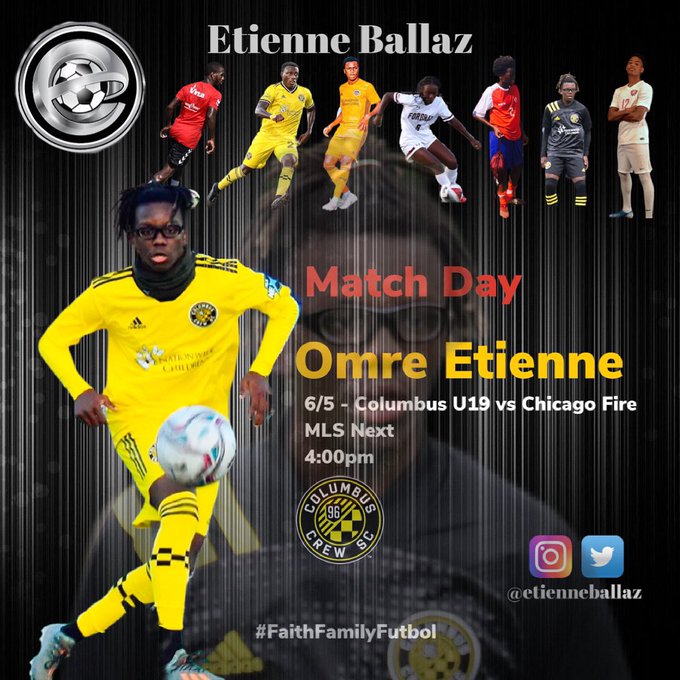 Add the likes cousins Quincy Etienne, a midfielder at Radford University, Aaron Etienne, most recently a midfielder with James Madison University who plays with Northern Virginia FC (USL League Two), the level of play in those games is very high.
"There's a lot of trash talk, a lot of bragging rights," Derrick Sr. said Saturday. "We love it."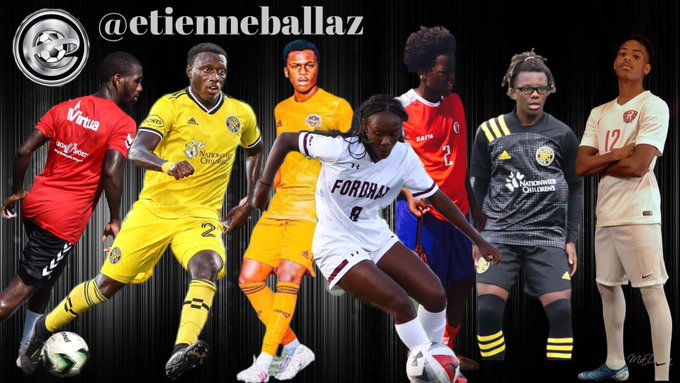 Now, teams are not divided by the Derrick and Darrell sides of the family. They usually pick sides to help even things out.
"We joke about all the time. If we put me, Derrick and Danielle, my immediate family, they say it's not fair," Derrick Sr. said. So, we spread the love and we share. We just pick players and to try to make this squad even as possible. Again, it's fun."
Derrick, Sr. reminded a pick-up indoor game in which Derrick Jr., Omre, Aaron and Quincy played.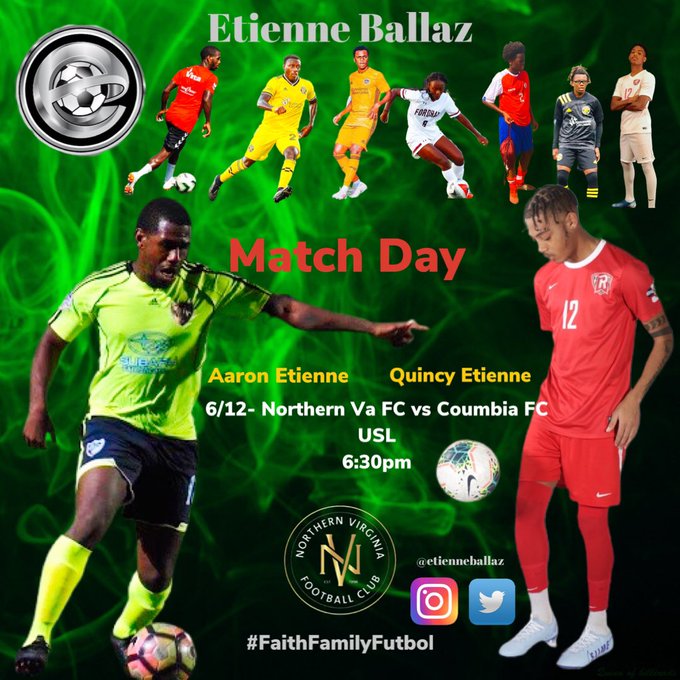 "Just to hear the level of testosterone and trash talk between Derrick, Jr. and Aaron, and Quincy and Omre, it was just crazy because it was like me and Darrell when we were young. We were very competitive. We've always challenged each other to be the best. To see the next generation have that same level of competitiveness and going hard on each other.
"After Derrick's team won, he's [got] bragging rights. … We all come back together and we go to Chipotle. It was great. It's great to see the competitive nature that we challenged each other and pulled the best out of each but we still love each other when the game's done."
As for Derrick Sr.'s children, Derrick Jr. and Danielle are different players.
Danielle Etienne in action for Haiti. (Photo courtesy of Fordham SID)
"She's done really well," father Derrick said. "Derrick is that attack-minded, risk-taking type player, but Danielle is very, very consistent, She's steady as a holding midfielder or even a number eight. She's reliable, does the dirty work and makes the right decisions on the ball. I'm very, very impressed with Danielle. Her soccer IQ is really high on her. I'm definitely proud of her and looking forward to their World Cup qualifiers in November."
Yes, Concacaf qualifying for the 2023 Women's World Cup in New Zealand and Australia kicks off this November.
Here are two related stories:
FROM SENIOR TO JUNIOR: Derrick Etienne, Sr. proud of the way his son has comported himself
ONE MAN, TWO PASSIONS: One man, two passions: Derrick Etienne, Sr. found a way to combine a soccer career with being a pastor