David Ochoa was magnificent in the nets for the USA. (Photo courtesy of MLS)
GUADALAJARA, Mexico -David Ochoa made several key saves to overcome a shaky defense and Jesus Ferreira redeemed himself with a goal to lift the United States to a 1-0 win over Costa Rica in the Concacaf Olympic Qualifying Championship Thursday evening.
Ochoa made nine saves on the Under-23 squad whose roster was dominated by Major League Soccer players.
"He was arguably the most important player for us today," USA head coach Jason Kreis said during a Zoom press conference. "He stepped forward in a major big way. Some of some of the times that he came off of his line to replace balls that we're putting behind us were second to none. We believe that Ochoa has a huge future in front of him. It's nice to see that he's beginning to put his best foot forward."
And his hands as well.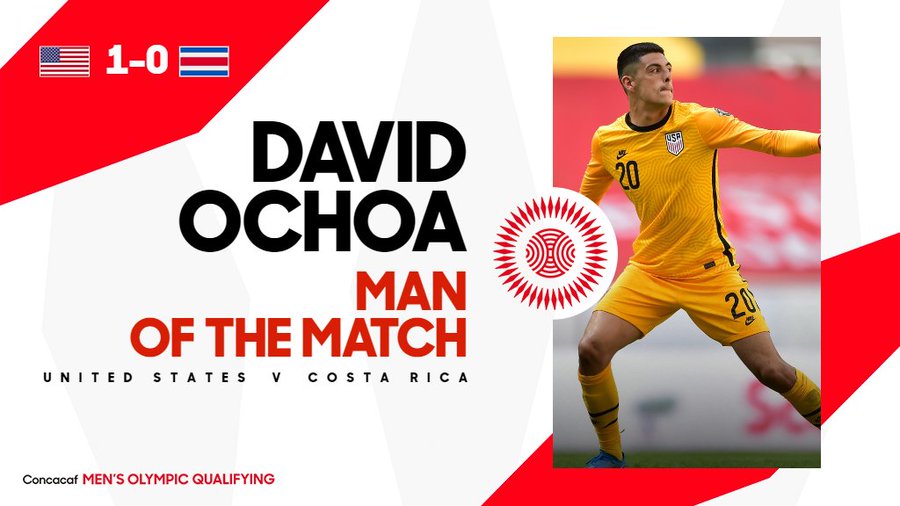 The game was far from a masterpiece for the Americans, who won a big match and accrued three precious points.
"It wasn't great," Kreis said. "It was an important result for us but I would say that we would have hoped to have gotten that result in a little bit of a better fashion. I think we would have hoped that we could have been better on the ball and made better decisions and maintain the tempo of the game better. But unfortunately, as I said it's part of part of guys not playing matches. It's not just about fitness. It's also about their touch on the ball. So I felt that the majority of what Costa Rica did to hurt us was in transition, when we gave the ball away very cheaply."
The victory propelled the USA into first place in Group A before Mexico played the Dominican Republic in the second game of the doubleheader at Estadio Jaslico.
"I wouldn't say that it's a sign of the sign of a good team, I think it is a sign of a good team," Kreis said. "It is one thing that you're looking for from your players to be able to gut out a result, when things maybe aren't going their way and when they're super super fatigued. You saw at the end of the game how difficult it was for some of our players to get through that match. We've got the three points in our pocket, and we're going to be a team that will improve over the course of this tournament."
If the USA can defeat the Dominicans in their second encounter Sunday, they will be in the drivers' seat to reach the semifinals before next Wednesday's final group stage match vs. Mexico. The first two teams in each group will qualify for the semifinals.
Ochoa, who tends goal for Real Salt Lake, was the defensive hero for the Americans. He made up for some questionable play and defensive mistakes in the back.
In the 11th minute, he made a two-handed save on Yurguin Roman's free kick n the 11th minutue and then denied Adrian Martinez six minutes later after an error by center back Mauricio Pineda (Chicago Fire).
Only two minutes into the match, Ferreira had a brilliant opportunity power the USA into the lead after he stripped a Costa Rican player of the ball, but he powered his shot off the left post.
The FC Dallas player made sure he was more on target in the 35th minute as he put home a Sam Vines feed from the left wing some eight yards out past the goalkeeper.
The Ticos actually put the ball past Ochoa once, but they were called offside in the 39th minute and the goal was nullified.
Ochoa picked up where he left off in the opening half, making several key stops over the final 45 minutes.
Kreis, who said Ochoa was "excellent," said he based his decision to start him was based on his camp performance. JT Marcinkowski and Ochoa entered camp with slight injuries.
"So it was kind of interesting to watch them in the first 10 days as they built back to a place where they were 100 percent," he said. "I just felt over the last couple of days really made the decision very, very late, but it seemed pretty clear to me that at this moment right now. Ochoa is in a little bit better form. We knew that we were going to need him to make some saves tonight and he came through in a very big way for us."
Both halves had hydration breaks due to the high heat and humidity.
Kreis said that "without a doubt" the heat, humidity and altitude did not help the Americans, who had very heavy legs in the later stages of the match."I think that the the system that we're playing is a very difficult one," he said. "It requires a lot of energy, requires a lot of running, and requires the players to be calm on the ball. It's not easy to be a team that's looking to build out of the back or to maintain possession. This isn't the easy way to play. The easy way to play is to be reactive and counter attack. It's not our DNA."
Venue: Estadio Jalisco; Guadalajara, Mexico
Attendance: Limited attendance
Kickoff: 5:30 p.m. ET / 3:30 p.m. local time
Weather: 86 degrees; sunny
Scoring Summary: 1 2 F
USA 1 0 1
CRC 0 0 0
USA – Jesús Ferreira (Sam Vines) 35th minute
USA: 20-David Ochoa; 17-Aaron Herrera, 4-Justen Glad, 5-Mauricio Pineda, 13-Sam Vines; 18-Hassani Dotson (16-Johnny Cardoso, 82), 6-Jackson Yueill (capt.), 8-Djordje Mihailovic (15-Andres Perea, 59); 14-Benji Michel (10-Sebastian Saucedo, 59), 9-Jesús Ferreira (19-Sebastian Soto, 67), 7-Jonathan Lewis (2-Julian Araujo, 83)
Substitutes not used: 1-JT Marcinkowski, 3-Henry Kessler, 11-Tanner Tessmann, 12-Matthew Freese
Head coach: Jason Kreis
CRC: 13-Kevin Chamorro; 4-Ian Smith, 19-Fernan Faerron, 2-Aaron Salazar, 3-Yurguin Roman; 16-Adrian Martinez (20-Jimmy Marín, 71), 8-Bernald Alfaro, 5-Jefferson Brenes (9-Jurguens Montenegro, 60), 10-Randall Leal (7-Marvin Loría, 71), 11-Luis Diaz; 14-Manfred Ugalde (17-Gerson Torres, 60)
Substitutes not used: 1-Adonis Pineda, 18-Patrick Sequeira, 6-Luis Hernández, 12-Kevin Espinoza, 15-Alexis Gamboa
Head coach: Douglas Sequeira
Stats Summary: USA / CRC
Shots: 7 / 19
Shots on Goal: 2 / 8
Saves: 8 / 1
Corner Kicks: 1 / 8
Fouls: 19 / 14
Offside: 1 / 1
Misconduct Summary:
CRC – Bernald Alfaro (caution) 12th minute
USA – Justen Glad (caution) 20
CRC – Luis Diaz (caution) 62
CRC – Fernán Faerrón (caution) 82
Match Officials:
Referee: Said Martinez (HON)
AR1: Walter Lopez (HON)
AR2: Henri Pupiro (NCA)
4th Official: Mario Escobar (GUA)