Emmanuele Sembroni played his last game with the Cosmos. (Photo courtesy of the Cosmos)
Emmanuele Sembroni saw red in the worst possible way on the field Aug. 21.
The Cosmos veteran center back Aug. 24 was suspended for the remainder of the regular season and NISA fall tournament.
In a statement, the Cosmos announced that Sembroni had played his final game with the National Independent Soccer Association club.
Sembroni was red carded for stomping on the head of midfielder Daniel Vicente in the 57th minute of the Cosmos' 3-1 win over New Amsterdam FC in Warwick, N.Y.
"Due to the violent and egregious nature of the infraction, the league office has made the decision, in consultation with the disciplinary committee, to suspended Sembroni for the full remainder of the 2020 season and fall tournament," NISA said on Twitter.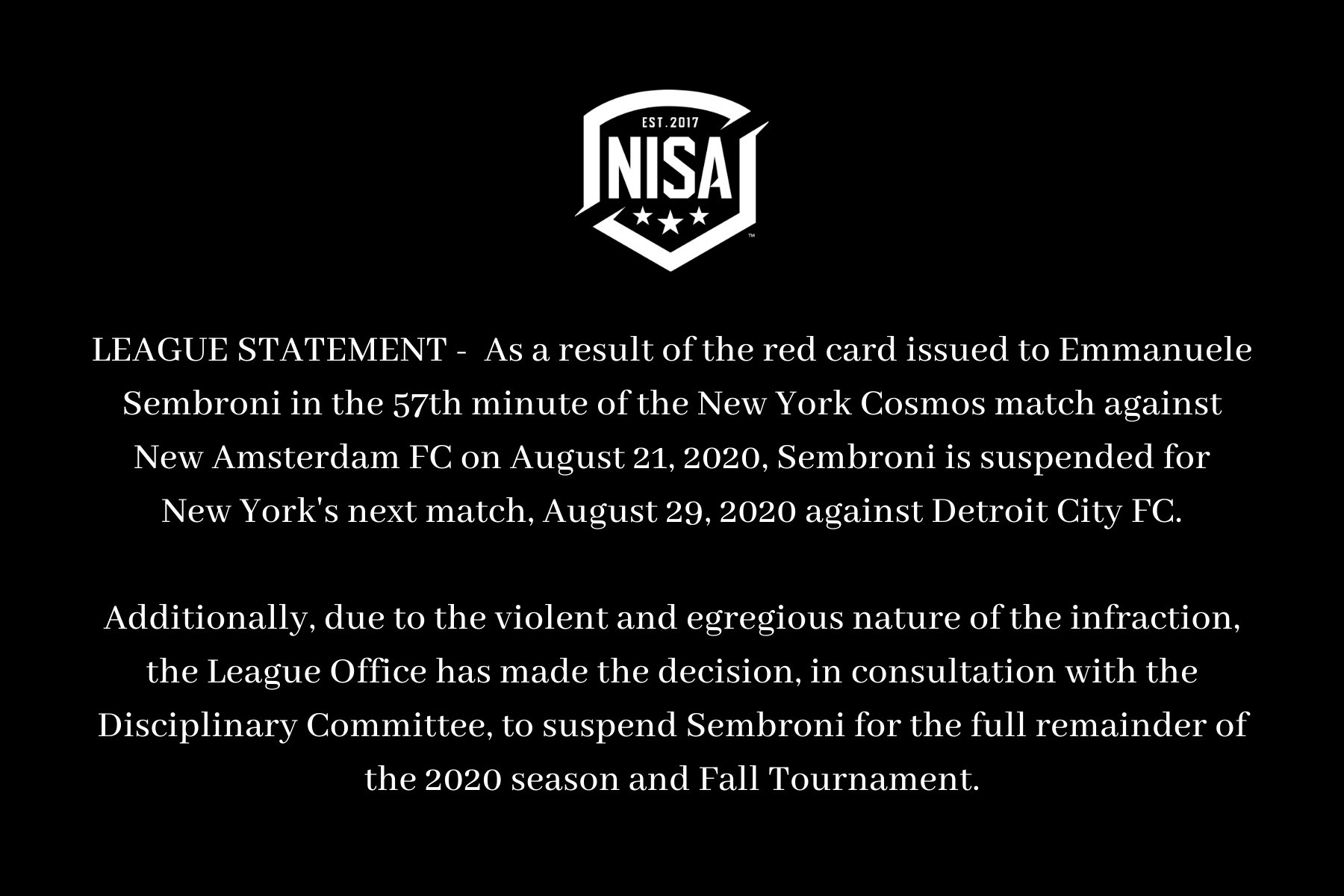 The Cosmos did not appeal the disciplinary process or red card.
"While Emmanuele has played his last game for the Cosmos, we believe he will be able to learn from this incident," the Cosmos said in a statement on Twitter. "Since joining our club, he has been an active member of the Cosmos family and a dedicated community volunteer. We know Emmanuele is sincerely sorry for his actions, and hope that, in due course, he can be forgiven for his mistake."
"As an organization, we cannot and will not condone unsportsmanlike behavior. Once again, the Cosmos extend our deepest apology to Danny Vicente and everyone at New Amsterdam FC. This is certainly not how we wanted to begin our new local rivalry."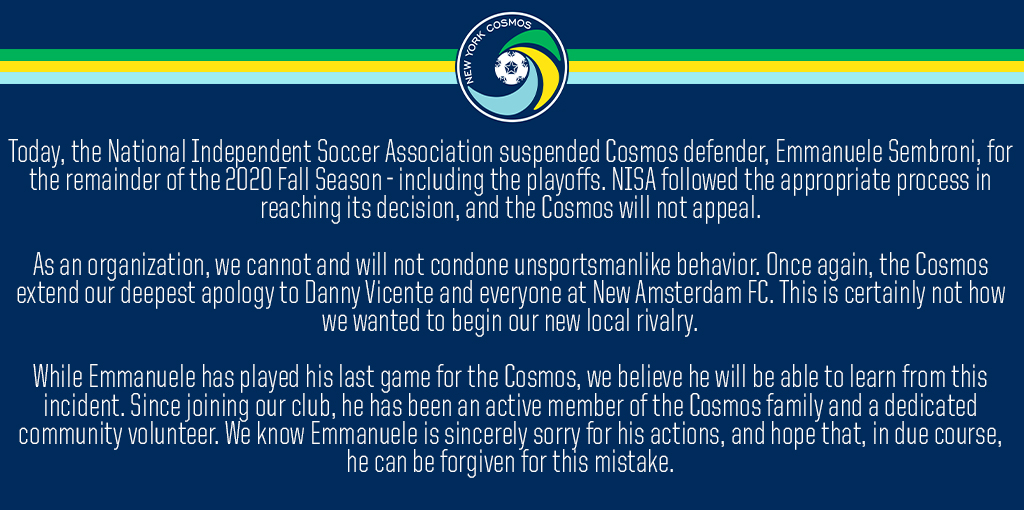 On Aug. 22, Sembroni apologized for what transpired.
"I want to publicly apologize to Danny Vicente and the entire New Amsterdam organization," he said on Twitter. "I apologized to Danny last night and again this morning and I want people to publicly know how remorseful I am. My actions last night were inexcusable and totally out of character for me."
I want to publicly apologize to Danny Vicente and the entire New Amsterdam organization. I apologized to Danny last night and again this morning and I want people to publicly know how remorseful I am. My actions last night were inexcusable and totally out of character for me.

— emmanuele sembroni (@ESembroni) August 22, 2020
I also want to apologize to @NYCosmos fans. I know that I disappointed you and I never want that to happen.

Finally, I want to say I'm sorry to my club and my teammates. I let you down, which hurts me tremendously.

— emmanuele sembroni (@ESembroni) August 22, 2020