Bradley Wright-Phillips has scored 116 goals in his MLS career. (Photo courtesy of MLS)
COLUMBUS – It isn't over quite yet for Bradley Wright-Phillips.
The former Red Bulls striker has signed as a free agent with Columbus Crew SC Wednesday.
BWP most recently played for Los Angeles FC. He has eight years of experience in Major League Soccer as his 116 regular-season goals make him the sixth-highest goal scorer in legue history.
Recently, Wright-Phillips was named to Major League Soccer's "The 25 Greatest" list, honoring the 25 brightest stars in the League's storied 25-year history that just concluded with Crew SC taking home its second Cup title.
He is the second former Red Bull on Columbus, joining former teammate Derrick Etienne, Jr., who scored a goal in the 3-0 triumph in MLS Cup.
Wright-Phillips joins Columbus with many accomplishments: a three-time MLS Supporters' Shield Winner (2013, 2015, 2018), a two-time MLS Golden Boot winner (2014, 2016), a two-time MLS Best XI selection (2014, 2016), a Concacaf Best XI selection (2018), a two-time MLS All-Star (2014, 2018), and a recipient of the MLS Comeback player of the year award (2020).
"We are thrilled that Bradley has chosen to join Crew SC as we look to build off of our 2020 MLS Cup title and continue to contend for trophies headed into 2021," Crew SC president and general manager Tim Bezbatchenko said in a statement. "As one of the most proficient strikers in our League over the last decade, Bradley brings valuable veteran experience to our attacking corps and we look forward to his contributions. We also believe Bradley's quality character and mentality is an asset to every team he has played for and has played a critical role in all the personal success he's had in his career."
During 2020, Wright-Phillips made 18 regular-season appearances (14 starts) for LAFC, registering eight goals and six assists. Before spending the 2020 season with LAFC, Wright-Philips played for the Red Bulls from 2013-2019, where he made 195 regular-season appearances (164 starts) while scoring 108 goals – the most in club history – and providing 28 assists. During his time with the Red Bulls, the forward helped the club win three MLS Supporters' Shields (2013, 2015, 2018) while being named the New York Red Bulls Most Valuable Player on three occasions (2014, 2017, 2018).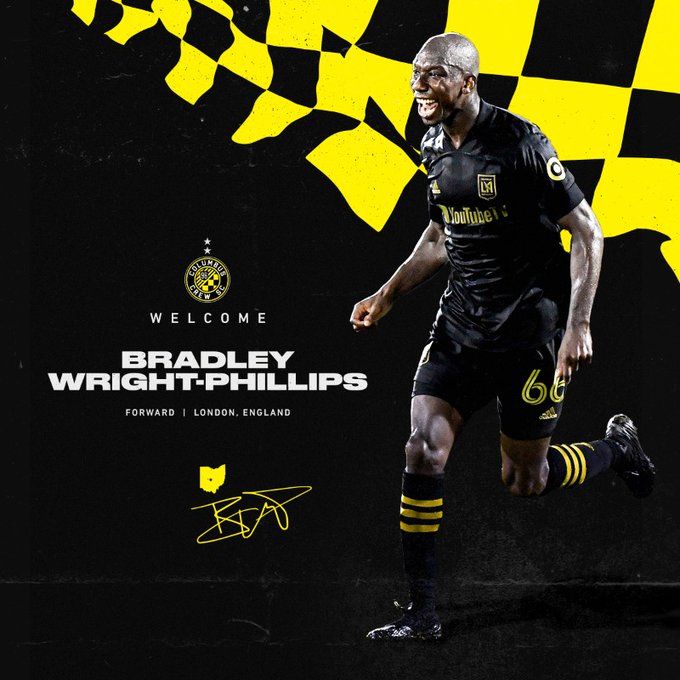 While playing for the Red Bulls, Wright-Phillips became the first player in MLS history to score 20 or more goals in three different seasons (2014, 2016, 2018), as well as the first player in League history to score 15 or more goals in five consecutive seasons (2014-2018). In addition to his MLS experience, the English forward also made 14 appearances in the Concacaf Champions League (all starts), scoring four goals and providing five assists for the Red Bulls.
A product of the Manchester City academy, BWP played in 32 contests for the Premier League side from 2004-2006. While in England, the forward also played for Southampton FC from 2006-2009, Plymouth Argyle FC from 2009-2011, Charlton Athletic FC from 2011-2013 and Brentford FC (2013). While with Charlton Athletic, Wright-Philips helped the club win the 2011-2012 Football League One championship.