Paolo Rossi and Pat Occhiuto after the Buffalo Stallions exhibition game in 1980. Adolfo Gori is at the far left. (Photo courtesy of Pat Occhiuto)
By Michael Lewis
FrontRowSoccer.com Editor
Monday, July 5, 1982 was a festive occasion at the DeRosa household in Buffalo, N.Y.
Italy was to face heavily favored Brazil in the Group A second round match of the World Cup. So, Buffalo Stallions head coach Sal DeRosa invited his players and friends to watch the game on his TV.
After an incredibly and confounding slow start – three draws and two goals in the group stage – Italy started to find itself, especially with a 2-1 win over defending champion Argentina and Diego Maradona in the second round.
So, many of the assembled at the DeRosa's were hopeful and optimistic.
What they witnessed was one of the great epic encounters of the competition as their rooting interests centered on one particular player.
Paolo Rossi scored first, but the South American side equalized.
Rossi found the net again and so did the Brazilians.
When the Italian striker struck yet a third time to give the Italians a 3-2 lead in the 74th minute, DeRosa brought a Buffalo Stallions shirt with Rossi's name on the back. Rossi once played for the Stallions.
"Everybody went nuts," said Pat Occhiuto, then a Stallions forward.
Italy eventually walked out of Sarrià Stadium in Barcelona, Spain with an earth-shattering 3-2 triumph.
In the days well before fans could buy facsimile jerseys of their favorite players, that Rossi shirt was the real McCoy. He had played an exhibition game with the Major Indoor Soccer League team in 1980.
Rossi scored six goals and capture the Golden Boot and Golden Ball as the Azzurri won its third World Cup.
"Watching him it was like surreal," Occhiuto said. "You actually played with that guy, even for one game. You knew it was true, but it was still hard to comprehend."
Rossi passed away Wednesday night at the age of 64.
"He was a great person," Stallions captain and defender Jim Sinclair said. "R.I.P. Paolo."
In 1980, Rossi had yet to forge his legendary reputation but was well known after scoring three goals to help Italy to a fourth-place finish at the 1978 World Cup and had tallied 60 times in 94 appearances for Vicenza over three seasons.
Just how Rossi wound up with the Stallions came because of his misfortune. He had been suspended for three years in 1980 by FIFA for his involvement in a match-fixing scheme. Rossi claimed he was innocent and was a victim of injustice. His sentence was later reduced to two years, but for a soccer player, a multi-year ban could be a career killer.
Rossi had some connections with a former North American Soccer League defender and head coach, Aldolfo Gori. Gori, who made one appearance for Italy's national team, played six seasons with Juventus, Rossi's future team.
At the time, the MISL was not under FIFA's umbrella. So, Rossi, his manager and Gori ventured to the United States. Gori had struck up a friendship with DeRosa, his former coach on the Rochester Lancers.
"Sal said, how would you like to play with Paolo Rossi?" Occhiuto said. "I said, on yeah, sure."
Dave Sarachan, who went to become U.S. men national coach, an assistant USMNT coach, and Chicago Fire boss among his other gigs, was a forward on the Stallions. He was more than a bit skeptical.
"When he said we were going to have Paolo Rossi join us, it was like, no, this can't be real," he said. "I just didn't I didn't believe it."
"And a week later, he was here with this manager," Occhiuto said. "And from that day he came in, you will never know that this guy was a world class player. Down to Earth, fantastic guy."
Down to earth was the consensus of several of Occhiuto's Stallions teammates.
Sinclair took Rossi and his manager to a local mall in the Buffalo area.
"He was like a kid in a toy shop," he said. "His manager said he couldn't do that in Italy. He didn't act like a super star; very quiet and polite friendly with everyone."
Rossi adapted to the indoor game quite quickly, Sarachan remembered "the quality that he had coming from an outdoor setting to an indoor setting."
"There were a lot of players that struggle," said Sarachan, currently the head coach of North Carolina FC (USL Championship). "I remember when Eusebio came over [for a short stint with the Stallions]. The first training session he was banging balls, using angles off the walls, having never played. Paolo Rossi was an outdoor player playing indoor soccer, but you could see the quality of when he was around the goal even if it was a smaller goal."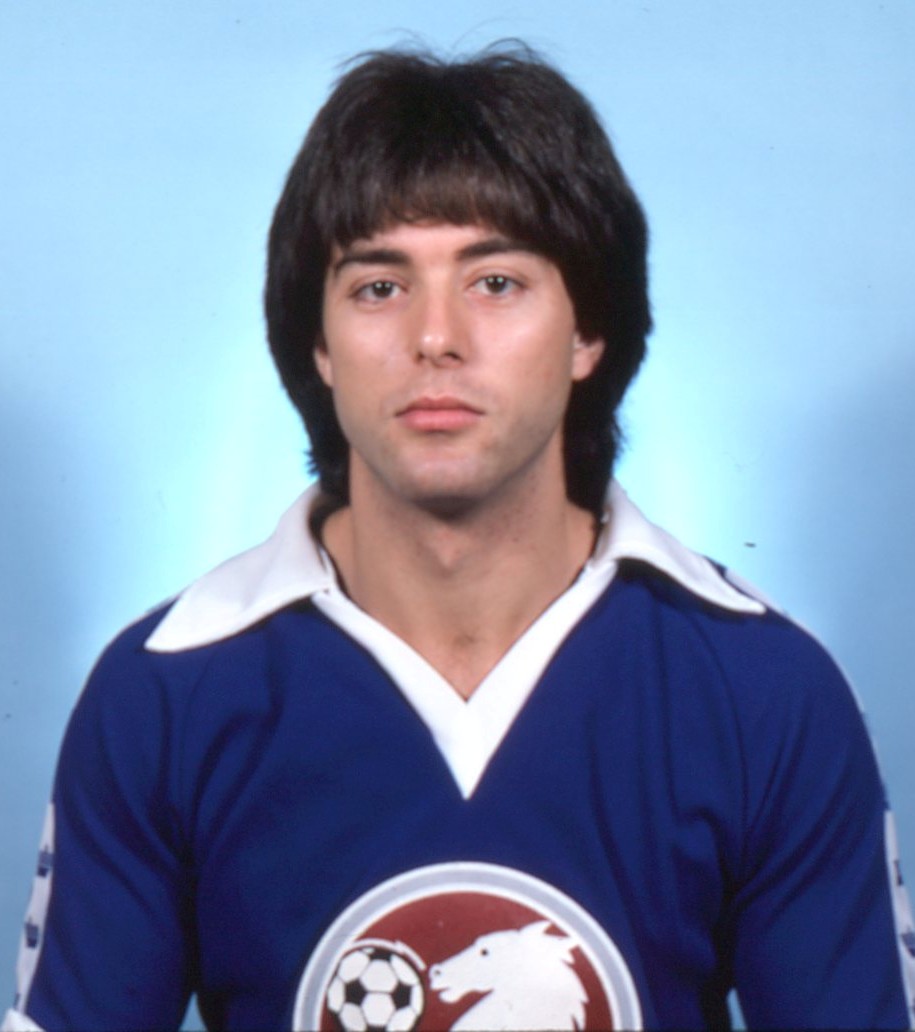 Pat Occhiuto
Occhiuto said that he and forward Pat Ercoli trained with Rossi because they spoke Italian.
"With us being Italian, me and Pat and him we kind of hit it off," he said. "We warmed up together every day. We ended up playing quite a bit together in that game against Philadelphia. It was a totally different game [for Rossi] but it was he's always played indoor, no big deal. Quick one, two, not holding on to the ball. You could tell he was a world class player."
Rossi scored one goal and assisted on another in a 9-8 preseason victory over the Philadelphia Fever before 3,346 spectators at the Aud on Oct. 30, 1980.
"I was very impressed with Rossi," DeRosa told this writer in 1980. "He adjusted quickly and easily. He said that he loved the game. … It was a good conditioning game."
Afterward, Rossi and the team went out to Mulligan's, a local bar, to celebrate the victory.
"I think it was a relief for him to be able to get out there and play, even though it was only one game and a couple days practice," Occhiuto said.
At the team's next training session at an area indoor soccerplex, Rossi showed up with an intriguing goodbye present for his teammates.
"We were all drinking champagne to toast him being and he toasted us for hosting him," Sarachan said. "We're drinking champagne at 11 in the morning. I remember thinking to myself that is classy. That's just a classy touch."
And back to Italy Rossi went.
"Too bad he didn't get to spend more time in Buffalo," Budd Bailey wrote in the Buffalo News in 2010.
"He still had aspirations to play in Italy and play in the World Cup and what not," Ercoli said. "So, I don't think he wanted to jeopardize those chances."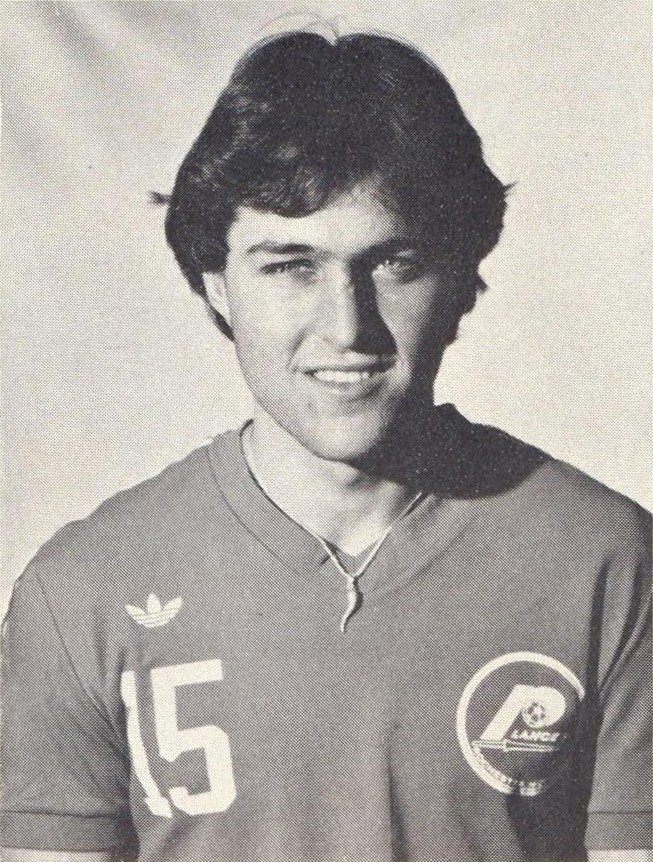 Pat Ercoli played for the Stallions and Rochester Lancers, among other indoor and outdoor teams.
Some 18 months later, many Italians toasting Rossi for his astounding accomplishments at Spain 82. His suspension was over in May, so Rossi, then 25, did not have much time to find form to dominate at the international level.
Rossi's former teammates watched the World Cup in awe and with pride.
"It didn't start out well," Occhiuto said. "He was the verge of not being one of the starters, but the coach had enough faith in them. Everything came together against Brazil for him. And he got more confident as the games went on and he looked like his old self."
Added Ercoli: "It was exciting. At the time he came over here I knew of him. He really didn't perform at the level that he played in 82. to see that happened and then all of a sudden, known as hey this guy was the guy that came to Buffalo and played the game with us obviously it was exciting at that time. Just not to be expected, but all of a sudden, three games, he poured it on and got all the goals for Italy and won the World Cup basically."
After the hat-trick against Brazil, Rossi scored both goals in the 2-0 semifinal win over Poland and the opening tally in the 3-1 triumph over West Germany in the final. That was six consecutive goals for a team in the World Cup.
"I always considered Paulo Rossi a great, natural athlete," DeRosa told this writer in 1982 prior to the World Cup final. "What he did – playing like this only after a month – can only be done by a few exceptional players."
DeRosa passed away in 2014.
When Juventus and Rossi played in nearby Toronto in 1983, Occhiuto attended the match and wanted to see his former teammate again.
While waiting with fans outside the Juventus locker room, he needed to convince club officials that he knew of the star striker, so Occhiuto gave them a picture of himself and Rossi.
"I gave that picture which I figure I'll never see it again," Occhiuto said. "I said take that in there and see if he'll come out. And believe it or not, he came out to say hello. Everybody went nuts. It was crazy. There was a year after Italy won and he accommodated fans."