Josh Wolff always proved to be a tough cookie on the field for the U.S. national team, as he proved against Mexico in 2001. (Andy Mead/YCJ Photo)
By Michael Lewis
FrontRowSoccer.com Editor
It has been known by many names, including Columbus Crew Stadium, MAPFRE Stadium and even the erector set because it looked like one.
The venue will be forever known as Major League Soccer's first's soccer-specific stadium.
Built in only nine months and opened in 1999 for the bargain price of $28.5 million, the stadium has been the home to hundreds of soccer matches the past 21 years, mostly for the Columbus Crew and eventually Columbus Crew SC, two U.S. national teams (women and men), MLS Cups, an MLS all-star game, two College Cups (NCAA Division I men) and two Lamar Hunt U.S. Open Cup finals.
With Saturday night's MLS Cup championship encounter between Crew SC and Seattle Sounders FC as the likely swan song of the stadium, if not one of the last games there, I thought I would share with you some of my most memorable games that I attended in Columbus.
Call it my Sweet 17 matches:
Earnie Stewart scored in the first dos a cero win. (Derik Hamilton-USA TODAY Sports)
A first time for everything: the first dos a cero (Feb. 28, 2001)
A half hour into the match with Mexico, the U.S. was living its worst World Cup nightmare. The Americans already had lost their most dangerous scoring threat, Brian McBride to a swollen eye, and their best playmaker, Claudio Reyna, was hobbling around with a strained groin muscle.
In McBride's place came an energetic and swift, 24-year-old forward who had all of four international games under his belt. But Josh Wolff wound up as the unlikely hero in a dream performance in a stunning 2-0 triumph over Mexico on Feb. 28, 2001. Wolff scored the first goal and setting up the second in a game that definitely put Mexican coach Enrique Meza on the hot seat as Mexico's winless streak hit six games (0-5-1).
The win, only the third time the U.S. had beaten in the Mexicans in World Cup qualifying, gave the Americans three points and a share of the lead in the final-round group along with Jamaica (1-0), which defeated Trinidad & Tobago, 1-0. The last time the U.S. had defeated Mexico in qualifying was a 2-1 victory in Fort Lauderdale on Nov. 23, 1980, and that was after the Americans were eliminated.
"It was a great win for the U.S. team," coach Bruce Arena said. "We obviously faced a lot of adversity. I am really pleased the team pull together in the second half."
Asked if he could put the result into historic perspective, Arena replied, "Not really. It's a long haul. You can't make more out of today than it really is . . . We're very happy to protect our home turf."
The U.S. specifically picked Columbus as its venue, playing during the mid-winter and 29 degrees in a gamesmanship effort to knock the Mexicans off their game.
Wolff who replaced McBride, took center stage in the second half.
With the second half barely a minute old, defender Jeff Agoos cleared a Mexican shot out of the penalty area to Joe-Max Moore, who knocked the ball to MetroStars midfielder Mathis. Mathis launched a 30-yard pass to the streaking Wolff, who beat wandering goalkeeper Jorge Campos outside of the penalty area. The ball bounded off Campos's knee and Wolff twirled around and found himself with an empty goal to shot at from 16 yards for his second international goal and a precious 1-0 lead.
Wolff turned playmaker in the 88th minute. He beat defenders Claudio Suarez and Alberto Macias on the right side of the box and found Stewart, who slotted it home from 12 yards.
The U.S. also played well defensively as goalkeeper Brad Friedel made four saves, including denying Francisco Palencia from 10 yards in the 69th minute.
Former Red Bulls midfielder-defender Rafa Marquez makes his return to New Jersey June 1. (Andy Mead/YCJ Photo)
Nothing lasts forever: dos a cero is history (Nov. 11, 2016)
Former Red Bull Rafa Marquez, battling Michael Bradley for the ball, scored the game-winner in Mexico's 2-1 WCQ win over the U.S. (Trevor Ruszkowski/USA TODAY Sports)
Dos a cero is history as Mexico made some history of its own in the CONCACAF hexagonal opener Friday night (Nov. 11, 2016).
Former Red Bulls defender Rafa Marquez, who has tormented the United States with some unwarranted physical play in the past, scored the game-winner in the 89th minute to boost El Tri to a 2-1 triumph before a capacity crowd of 24,650 at MAPFRE Stadium.
It was the first time the Mexican defeated the Americans at the stadium. The previous four results were 2-0 victories by the USA — in 2001, 2005, 2009 and 2013. It also was the first time the Americans dropped a home WC qualifier since a 3-2 loss to Honduras in Washington, D.C. on Sept. 1, 2001, ending a 30-game WCQ home unbeaten streak. And it was the first time Mexico recorded a qualifying win on U.S. soil since a 2-1 victory in Los Angeles on Sept. 10, 1972.
"It's disappointing," U.S. head coach Jurgen Klinsmann said. "You don't want to lose this game at all."
The loss meant the U.S. desperately needs at least a point in Tuesday's encounter in Costa Rica, a venue in which the Americans have never won a qualifier.
"The message is very simple. We got to go down there and get a result," Klinsmann said. "I told them we'll correct it in Costa Rica.
"It gives us a sense of anger, a sense of urgency."
The USA will have to get that result without starting goalkeeper Tim Howard, who pulled a leg muscle late in the first half. Howard was replaced by Brad Guzan in the 44th minute.
The game was played in the backdrop of Tuesday's presidential election. President-elect Donald Trump threatened to build a wall along the USA-Mexico border during the campaign, although it did not appear to be any of that rhetoric incited any violence from the supporters.
Marquez, who had tussles with several American players, including Howard and Cobi Jones in qualifiers and World Cup matches and Landon Donovan in the Major League Soccer playoffs, found the range with time running out in regulation. He knocked home a corner kick by Miguel Layun, who had scored earlier in the match.
"We were sleeping there," U.S. midfielder Jermaine Jones said.
For Marquez it was a goal and win of vindication. He had played in three of the four previous losses here. "Maybe now they have a bad time, a time of intolerance and with this win maybe they can forget now a little bit what happened here in the U.S.," he said. "It was a long time that we haven't had a good game [here]. We are very happy, and this is very important for us."
Doug Miller scored what proved to be the winning goal in the 1999 Open Cup final. (FrontRowSoccer.com Photo)
An Open Cup and shut case: Raging Rhinos shut down Rapids (Sept. 14, 1999)
When they were known as the Rochester Raging Rhinos, no one realized at the time how historic their 2-0 Open Cup final triumph over the Colorado Rapids.
Yes, they were an A-League team that topped a Major League Soccer side. No other team but an MLS squad has won the coveted title since.
"This is the biggest win in franchise history," Rhinos general manager Chris Economides said.
"I think a lot of people doubted Rochester coming into this, but the guys in the locker room and the owners and the coaches, we never doubted it for a second," said forward Doug Miller, the MVP of the championship game. "This has been part of our goal from the get-go. We've obtained half of our goal and the other half is the A-League championship. We've got some work to do, but for now, it's time to celebrate."
Miller, who replaced Darren Tilley in the 62nd minute, scored only four minutes later. Midfielder Mike Kirmse, who took over for Craig Demmin in the 51st minute, set up Yari Allnutt's score with 13 seconds remaining in regulation.
It's too bad only an announced crowd of 4,445 — it looked a lot less — showed up at the stadium to witness history because they missed one sizzler of a game.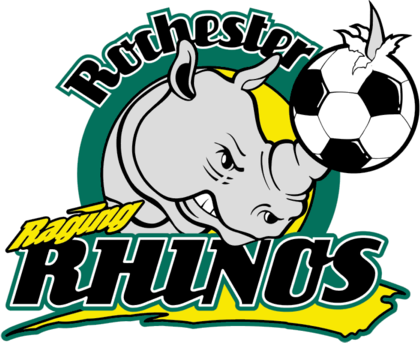 Immediately after he scored, Miller whipped off his shirt and ran to the Rochester supporters — some 200 strong — sporting a black shirt underneath that said, "Be Strong in the Lord and he will reward you. Keep your faith."
"It's been frustrating," said Miller, the team's all-time leading scorer who hasn't seen much action this season. "It's a nice reward he has given me for all my trials and tribulations."
Near the Rochester bench during post-match celebrations, a meeting of the generations transpired. Pat Dinolfo, who got to know Hunt, the owner of both the Columbus Crew and Kansas City Wizards when he was a co-owner of the Rochester Lancers in the North American Soccer League, introduced head coach Pat Ercoli, his son-in-law, to Hunt.
"It was an incredibly exciting result," Hunt told Ercoli. "This is the mayor of Rochester."
Ercoli smiled.
At the time, the Rhinos had grandiose plans.
They had visions of playing in MLS and in their own soccer specific stadium (it wasn't until 2006 that one was built and opened in Rochester). The Rhinos certainly had proved themselves on the field, winning the A-League championship last year and the Open Cup this year, and off the field as well, leading the league in attendance at 11,500.
"We consider ourselves a great candidate for expansion," co-owner Frank DuRoss said at the time.
Few people probably argued with him then. Even their fans have gotten into the act as well, producing a T-shirt that says: "Major League Soccer's Worst Nightmare!!! If you can't join ' em … Beat em!"
An unlikely hero: Reddick shines on both sides of the ball (Sept. 28, 2003)
Cat (Reddick) Whitehill had a dream game against North Korea.
Only a week prior, Cat Reddick passed her first Women's World Cup test, replacing 1999 hero Brandi Chastain at halftime of the USA's win over Sweden.
On Sept. 28, 2003, the 21-year-old defender played like a veteran at both ends of the field, scoring twice within a 16-minute span in the second half and helping preserve Briana Scurry's clean sheet in a 3-0 victory over North Korea before 22,828.
Not too shabby for a college senior who should have been starring in central defense for the University of North Carolina.
The USWNT finished the opening round at a perfect 3-0.
Reddick, now known as Cat Whitehill, played as a center back and entered the match with one goal in 39 international appearances.
"She's doing awesome," said her defensive partner, Joy Fawcett. "She's very clam out there. You can feel she's a little nervous."
With the USA enjoying a 1-0 lead on Abby Wambach's 17th-minute penalty kick, the 5-7, 150-lb. Reddick knocked a header (off Aly Wagner's corner kick) with her stomach in the 48th minute before 22,828 fans.
"I kind of bodied it into the goal," Reddick said. "I guess the attacking mentality just got to me. And a little luck never hurts."
Her second goal was more emphatic, a 10-yard header off Shannon MacMillan's 66th-minute corner kick.
USA head coach April Heinrichs said the defender's performance was "wonderful, marvelous. Before the game, she's at one place. After the game she's at another level."
The game also was remembered for the fact Mia Hamm was given a rare day off in the World Cup. During the second half, fans chanted, "Mia! Mia!" but they never got their wish.
Hamm, then the all-time international goal-scoring leader, stressed that she wasn't disappointed.
"Not at all," she said. "April and I talked about it. You have to balance wanting to staying sharp on touches, but also another day's rest is going to help. It tugs at you in both ways in regards to going out there and being competitive. The team looked great today."
Heinrich's original plan was to have Hamm come on at halftime, but the team's solid performance scuttled that idea.
"You can't make emotional decisions. Heinrichs said. "When it went to 3-0, it wasn't worth the risk. In the third game when you clinch, you run the risk of a major injury."
The wait is worth it: Another dos a cero result, another World Cup qualification (2013)
Landon Donovan scored one goal and set up another as he helped the USA qualifying for the 2014 World Cup with another dos a cero victory over Mexico. (Andy Mead/YCJ Photo)
Regardless what transpires in Brazil next year and beyond, the U.S. national team knows it will always have Columbus.
And Mexico.
And dos a cero.
Like clockwork, the Americans pulled off yet another 2-0 result, their fourth World Cup qualifying victory by the same exact score since they decided to make Columbus Crew Stadium a quadrennial chamber of horrors for El Tri in 2001.
Midfielder Landon Donovan set up the first goal by Eddie Johnson and tallied the second goal. Goalkeeper Tim Howard produced some stellar goalkeeping late in the first half when it was anybody's game on Sept. 10, 2013.
To rub it into their archrivals' faces, the Americans (5-2-1, 16 points) took over the Concacaf hexagonal lead from Costa Rica and qualified for their seventh consecutive World Cup and pushed the beleaguered Mexicans (1-2-5, eight) into fifth place by goal differential.
"Now it's expected of us, but it's never a guarantee," said Howard, who led the team celebrations inside and outside of the locker room with champagne spritzing of teammates and fans. "World Cup Qualifying is tense. It's always so tight. We said down in Honduras in February that it's going to come down to matchday 8 or 9, which it always does. You can never really breathe a sigh of relief, but tonight we're able to do that."
As the U.S. put the finishing touches of its victory, the players did not know whether they had clinched a berth at Brazil 2018. The Americans needed Honduras to tie or beat Panama, and that encounter was early in the second half with the Hondurans winning, 1-0. So, instead of the coaching staff and players talking to the media, they remained in the locker room to watch the remaining minutes of what turned into a 2-2 draw.
Donovan said watching the game was "a little nervy. The assumption was that regardless what happens we're going to qualify, but you want to be finalized. We saw Panama score at the end, got a little nervous. But once they blew the final whistle, then everyone was excited to be going to Brazil."
Added Howard: "That part was fun and then once they wheeled the champagne in it got even better."
When the team emerged from its locker room champagne bath and shower, the players, now wearing white shirts with one word in capital block letters proclaiming QUALIFIED — allowed the ardent remaining supporters from the sellout crowd of 24,584 get into the action. Howard led the way, getting fans wet with the bubbly. No one seemed to complain.
Howard himself was given a Gatorade bath by a teammate. The players then formed a circle and danced in front of their adoring public before walking onto the field and throwing teammates up into the air and catching them.
"This is a great crowd," Howard said. "It's become its own monster. People want to come to Columbus and see USA vs. Mexico. Because of the way results have gone the last four times, you almost feel like it's our destiny to win here."
"You see it when we came in the stadium," Donovan said. "It was rocking already. That was a real atmosphere. That's what we face when we go away. And it's nice other teams have to face it when they come here. We enjoy playing in front of a crowd like that. They certainly boosted us on tonight and it was great to do it in front of them."
The U.S. almost had a third goal — a penalty kick by Clint Dempsey late in stoppage time. He hit his attempt well right of the goal, making many media members wonder if Dempsey had done it on purpose to keep the score at dos a cero.
A son makes a father proud: Bradley bags a dos a cero brace (2009)
Father and son, Bob and Michael Bradley. Bob coached the U.S. to victory over Mexico in 2009, while Michael scored both goals. (Andy Mead/YCJ Photo)
After the U.S. national team vanquished Mexico yet again, it was left to Sam's Army to put the exclamation point and make a poignant point to the victory.
After sitting in the rain and the wind at Columbus Crew Soccer Stadium, the ardent fans of the U.S. team proudly sang the national anthem for the second time — the first time was prior to the game. They might not have realized it, but they were sending a not so-subtle message to the Mexicans: two, as in yet another 2-0 victory in a match that counted on Feb. 11, 2009.
With former MetroStars midfielder Michael Bradley leading the way with a goal in each half, the U.S. started the final round of Concacaf qualifying on the right foot with three points. Bradley became only the fourth U.S. player to score twice in a match in 55 games against Mexico and the first since former Cosmos forward Steve Moyers did the trick in a 2-1 win on Nov. 23, 1980.
The win also improved the Americans' unbeaten streak against their archrivals to 11 (9-0-2).
"Great to start the final round with a win against Mexico," U.S. coach Bob Bradley said. "It's never easy to beat Mexico."
The game was not a total victory for the U.S. Another former MetroStar, goalkeeper Tim Howard, who survived a dirty challenge by Mexican defender Rafa Marquez in the 65th minute (he was red carded), received his second yellow card of qualifying. He missed the March 28 qualifier in El Salvador due to a yellow-card suspension.
It was a night to remember for the 21-year-old Bradley, the son of the U.S. coach. The younger Bradley played another strong game as a defensive midfielder before 23,776 spectators. Bradley entered the match with three international goals in 25 appearances.
When asked about his performance, Bradley replied, "I'm happy with the win. We have three points. We beat Mexico. It's the best part."
Like it or not, controversy has always followed the Bradley's, first when the two were with the MetroStars from 2004-05 and now with the national team.
There were whispers of favoritism, although Michael Bradley's performance has put that all to rest.
During the post-game press conference, the senior Bradley was asked if he was the father or coach.
"Right now, I'm the coach," he said. "It's about the team. When you coach at the professional level there is a way you want to do the work, the environment that you create. Michael . . . gets a steady dose of that when he's with the team, but also in terms of the father-son relation that we have."
Michael Bradley scored in the 43rd minutes and two minutes into second-half stoppage time.
DaMarcus Beasley scored the insurance goal in the 2005 dos a cero match. (Photo courtesy of MLS)
The second time is just as sweet: USMNT does it again to El Tri (2005)
When it's not playing Mexico at Azteca Stadium, the U.S. national team has discovered it has the Mexicans' number.
Actually, it's two numbers — two and zero as in 2-0.
That was the score of the U.S. qualifying victory over Mexicans in the cold here in 2001.
That also was the final of the Americans' stunning triumph at the 2002 World Cup.
And not surprisingly, it also was the result of Saturday night's qualifier that boosted the U.S. into its unprecedented fifth World Cup. It certainly was sweet revenge for the Americans, who lost to their archrivals in Mexico City, 2-1, in March.
Goals by Steve Ralston and DaMarcus Beasley early in the second half lifted the U.S. to victory in front of a packed house of 24,685 on Sept. 3, 2005.
"They suck," forward Landon Donovan said after a champagne party in the U.S. locker room. "I'm so happy, man. They made it a little bit easier on us. I expected more. After we got the first one, they were never in the game.
"The only thing sweeter would have been to score. At least for three or four more years they will shut up and can't say anything and I love it."
The U.S. became the seventh country to book one of 32 spots in soccer's promised land in Germany, joining the hosts, Argentina, Japan, Korea, Iran, Saudi Arabia and the Ukraine.
For the first time since 1934, when it defeated Mexico, 4-2, for the lone spot in the region, the U.S. became the first team from Concacaf to book a spot in the Cup.
"That's fantastic," U.S. coach Bruce Arena said.
The U.S. (6-1-0, 18 points) hasn't lost to Mexico (5-1-1, 16) in a home qualifier since 1972 and raised its record at the stadium to 4-0-3. Moreover, the U.S. is unbeaten in seven straight home games vs. the Mexicans since 2000, outscoring their foes, 11-0.
"It's difficult," said Arena, who directed the U.S. to the 2002 Cup as well. "You look at it and you'll say it's a breeze and it wasn't a breeze.
"Every game has been difficult, but I think our experiences over the last four years has positioned us to be successful. Our guys know how to win in big games."
Greg Vanney scored but once for the USMNT, but it was an important goal. (Dan Hamilton/USA TODAY Sports)
Some late breathing room: Vanney's stoppage-time goal makes life easier (June 13, 2004)
The scoreboard might have read 3-0, but the U.S. sweated out this one in more way than one. Battling heart, humidity and a pack-in Grenada defense, the heavily favored Americans earned an opening World Cup qualifying win the hard way on June 13, 2004.
Despite dominating virtually every aspect of the match, they needed to grind this one out to avoid a potential must-goal situation in the second leg of the aggregate goal, home-and-home series in Grenada on June 21.
It wasn't until three minutes into second-half stoppage time that the USA could breathe easier as defender Greg Vanney recorded his first international goal in 29 matches off a 20-yard shot.
"It was a little sign of relief," the future Toronto FC head coach said. "There's a little bit of comfort being at 3-0 instead of 2-0.
The USMNT's domination was over the top. It outshot the Caribbean side, 34-6, while attempting 17 corner kicks to Grenada's one. Keeper Kellon Baptiste made 11 saves.
The visitors packed their penalty area with so many players that the game resembled pinball than soccer. The longer the game went without a USA score, the better their chances got for the return leg. In the waning minutes, Grenada had seven players in the penalty area to defend against three U.S. attackers.
"We knew the first goal would be tough, whether it was in the first minute of 45th minute," said DaMarcus Beasley, who tallied twice. "After we got that first one, the second and third were going to come. We didn't panic."
Beasley found the range during first-half stoppage time, heading in a Claudio Reyna right-wing cross from four yards. He doubled it in the 71st minute, running some 50 yards before Landon Donovan shuffled him the ball to score from 13 yards.
FDNY captain Joe Brosi (right) participated in the 2001 MLS Cup toss as his department and the NYPD were honored. (FrontRowSoccer.com Photo)
From worst to first: San Jose makes some earth-shattering news in the MLS Cup (Oct. 21, 2001)
Do you believe in miracles?
Well, the San Jose Earthquakes definitely did. They went from worst to first in one season, securing their first MLS Cup championship with a 2-1 sudden-death extratime win over the LA Galaxy Oct. 22, 2001.
Second-half substitute Dwayne DeRosario, one year removed from the Richmond Kickers (A-League), connected for the game-winner six minutes into extratime before 21,626 spectators.
What made it even sweeter for San Jose head coach Frank Yallop was that he did not have much time to rebuild the worst MLS side. He was hired only three days before the MLS SuperDraft that February.
"It's very difficult at the moment to put it into words," Yallop said. "It's unbelievable."
After Mexican international Luis Hernandez gave the Galaxy a 21st-minute edge, 19-year-old Landon Donovan scored the equalizer off a 13-yard shot in the 43rd minute.
"This is the best," Donovan said. "I'm extremely excited and very lucky."
And as the rest of the soccer universe discovered, extremely talented.
Earthquakes captain Jeff Agoos earned his fourth MLS Cup ring. He went on to accrue five.
"When you win one, you want more," he said. "Four is not enough … This feels much better. We did this with guys people never heard of."
It turned out to be an emotional weekend for New York's Finest and Bravest, since the Cup was held only 41 days after the 911 tragedy.
On Oct. 19, the NYPD and FDNY were honored with the Commissioner's Award, which went to a person, group or organization that provides inspiration for their unselfish work and leadership.
Joe Brosi, now a captain, then a fire marshal in the Manhattan Boro Command, participated in the coin flip, and four policeman and firemen kicked out the first ball. Both departments played for College Point in the Long Island Soccer Football League.
"It is very humbling," NYPD Sgt. Peter Meehan said.
Afterwards, firemen and police officers posed for pictures with the Earthquakes. Agoos gave Meehan his captain's armband.
Interesting note: just weeks after the 911 tragedy, this was my first airline trip. Needless to say, I had some trepidation of flying on a plane to Columbus. Got there and back in one piece.
THE 40-year wait is over: Four decades after starting, Timbers finally earn their 1st title (2015)
Rodney Wallace tallied an important goal for Portland in the 2015 MLS Cup. (Andy Mead/YCJ Photo)
The 40-year wait was over.
Forty years after playing and losing in its first pro soccer championship game, the Portland Timbers have a title they could call their own at the 20th MLS Cup.
Diego Valeri and Costa Rica international Rodney Wallace scored in the opening seven minutes of the 20th Major League Soccer final as Portland held on for a 2-1 win.
Portland's only other appearance in a championship game came as an expansion team in 1975, when it lost to the Tampa Bay Rowdies, another first-year side, in the North American Soccer League Soccer Bowl.
The Timbers struck for the fastest goal in MLS Cup history, striking only 27 seconds after kickoff. Wil Trapp innocently played the ball back to goalkeeper Steve Clark. With Valeri bearing down on him in the penalty area, Clark miskicked the ball for a second and the Argentine stole it and slipped it into the net from six yards.
The visitors doubled their lead in the seventh minute, even though their scoring sequence should not have happened. The went out of bounds at midfield, but the assistant referee did not stop play. Portland worked the ball to Lucas Melano, who sent in a looping cross from the right flank that a diving Wallace headed home at the far post for a stunning two-goal advantage.
"It's the best feeling," Wallace said. "It's putting all the pieces together. I've been trying to win a championship with this team from the first year. We've been through a lot of ups and downs, but we've never given up on what the mission was. … This is an amazing moment for the club, this is an amazing moment for me and the city.
"It's a surreal moment. Portland has given me a lot. I am just happy tonight that I'm able to give them something back. This is something what I worked for so long."
Crew SC finally gave its faithful something to cheer about in the 18th minute. While vying for an air ball, Portland goalkeeper Adam Kwarasey was bumped by Kei Kamara as the ball spilled in front of the net. Diego Chara's clearance went to Crew midfielder Federico Higuain, who fed Kamara for the goal.
So close, yet so far: St. John's men lose in Division I title match (Dec. 14, 2003)
Chris Wingert: "The toughest part is I consider myself a winner. I don't feel like one. Looking around seeing the faces, it kind of kills me."
By the time the final whistle sounded on a snowy Dec. 14, 2003 afternoon, the entire field was covered in white and the Indiana University penalty area was blanketed by the white shorts of St. John's University.
The Red Storm had desperately tried for the equalizer, sending crosses, passes and shots through the box, but it wasn't enough.
So, the Storm (17-6-3) walked dejectedly off the pitch with a 2-1 loss in the NCAA Division final.
For the second time in three seasons, St. Joh's championship hopes were ended by a resolute Hoosiers side on the same field. Indiana (17-3-5) ousted the Storm in the 2001 semifinals exactly two years to the day.
Goalkeeper Bill Gaudette crouched on the field for several minutes before captain and defender Chris Wingert consoled him. "It hurts," he said.
"The toughest part is I consider myself a winner," Wingert said. "I don't feel like one. Looking around seeing the faces, it kind of kills me."
Added head coach Dr. Dave Masur: "There is a lot of pin and disappointment. When you aim so high, the fall is devastating.
Indiana's triumph culminated a storybook finish for head coach Jerry Yeagley, who secured his sixth national title in his 31st season and final game.
"I did have the strangest feeling after the game was over," Yeagley said. "I asked the guys in the locker room, 'Is this a dream or is this real?' "
The Red Storm's vaunted defense, which had not allowed two first-half goals all season, cracked during a three-minute span.
Ned Grabavoy, who took a 17-hour plane trip from the Under-20 World Cup in the United Arab Emirates to play, scored off a 23-yard free kick around a seven-man wall after Chris Leidner fouled Jacob Peterson in the 16th minute.
Only four minutes later, Peterson beat Jeff Carroll and Matia Damania to the ball before embarking on a 30-yard jaunt before drilling a 17-yard shot into the lower left corner.
Ashley Kozicki tallied for St. John's in the 79th minute.
Dr. Dave Masur had a lot to celebrate in 2003. (Photo courtesy of St. John's SID)
A tale of two goalkeepers: St. John's prevails in the semifinals (Dec. 12, 2003)
St. John's 1-0 victory over the University of Maryland in the NCAA Division I semifinals turned into a tale of two goalkeepers on Dec. 12, 2003.
Red Storm goalkeeper Bill Gaudette turned in a magnificent performance, stopping everything sent his way, while his counterpart, Noah Palmer, made a devastating mistake that led to a penalty kick and the lone goal of the match.
Sebastian Alvarado Ralph converted it in the 35th minute after Palmer took down Ashley Kozicki while going for a Simone Salinno long ball at the end of the box.
"We made two mistakes in the first half and got punished on one of them severely," Maryland head coach Sasho Cirovski.
On the other end of the field, Gaudette could do no wrong. He finished with nine saves, including four in the opening eight minutes in 27-degree weather and an 18-minute wind-chill factor.
"He really showcased himself today," head coach Dr. Dave Masur said.
"Unbelievable," said defensive midfielder Matia Damani, a surprise starter after having a soft cast put on his fractured left arm.
Not semi-final tough enough: St. John's men fail to reach championship game (Dec. 14, 2001)
Depending on your vantage point, it was a a fantastic way to win, a horrible way to lose.
St. John's University experienced the "horrible" past on Friday night, Dec. 14, 2001, losing 2-1 in excruciating fashion in the second sudden-death extratime period to Indiana University.
Sophomore midfielder Vijay Dias scored from 16 yards for the Hoosiers, who played North Carolina for all the marbles on Dec. 16.
"It's the toughest thing I've been through," said Red Storm midfielder Jeff Matteo, who was near tears. "We've worked so hard.
Matteo gave the Red Storm the lead in the 49th minute, firing a low free kick around a six-man way and past goalkeeper Colin Rogers. He celebrated Clint Mathis style, taking off his jersey to reveal a "I Love NY" shirt after he snapped Indiana's goalless streak at 702 minutes and 19 seconds.
The Hoosiers equalized Mike Ambersley's goal minutes later, a 22-yard score.
Dias ended the 112-minute, 49-second marathon with a 16-yard goal past goalkeeper Guy Hertz.
Nothing doing: USMNT plays to a 0-0 draw in 1st WCQ (Oct. 11, 2000)
Bruce Arena wasn't allowed to coach the USMNT against Costa Rica in 2000. (FrontRowSoccer.com Photo)
A scoreless draw didn't help either the United States or Costa Rica in their World Cup qualifying game on Oct. 11, 2000. A victory by either team would have lifted it into Concacaf hexagonal round in 2001. Both squads would have to wait until the final day of the semifinal round – Nov. 15 – to determine their fate.
The Americans thought they had pulled out a win on a Josh Wolff goal three minutes into stoppage time before 24,430 spectators, but it was ruled offside.
The hosts entered the game severely handicapped, playing without four key players because of injuries and suspension.
Midfielder Claudio Reyna started his two-game suspension for his postgame conduct in the first qualifier against Costa Rica in July. Midfielders Eddie Lewis (red card) and Earnie Stewart (yellow-card accumulation) also missed the match. Forward Brian McBride was sidelined with a blood clot in his arm.
Furthermore, head coach Bruce Arena wasn't allowed to coach the team during the match. He began his three-match suspension for berating the referee after the first Costa Rican encounter while assistant coach Dave Sarachan ran the show from the bench.
Fear and Lothar-ing: Matthaeus makes a comeback in an all-star game (July 29, 2000)
Octavio Zambrano decided to start Lothar Matthaeus in the 2000 MLS all-star game. (FrontRowSoccer.com Photo)
Many players look for an injury as an excuse to skip an all-star game. On July 29, 2000, MetroStars defender Lothar Matthaeus used the MLS' annual affair to take another step in his recover from a back injury.
He hardly made an impact in the East's 9-4 victory over the West, but more importantly, the German star played in a competitive game for the first time in more than a month.
The MetroStars were going to need a healthy Matthaeus for their playoff stretch run after all-star Daniel Hernandez sustained a season-ending knee injury.
Matthaeus performed the entire opening half before he was subbed by Miami Fusion defender Jay Heaps. He was on the field for all of the West's goal, set up by LA Galaxy forward Cobi Jones. He also seemed to shy away from contact.
"That was a good start," Matthaeus said. "This was only for fitness. It's too early for contact. It was a great opportunity to come back. For me, this was a favor for MLS and for the fans. It was a fun game, so it was not so hard."
The MerosStars had five starters, including goalkeeper Mike Ammann, midfielder Mark Chung and forwards Clint Mathis and Adolfo Valencia. the latter three players scored goals. Defender Mike Petke came on as a second-half sub. Tampa Bay's Mamadou Diallo (two goals) was named MVP.
Ammann re-entered the game as a forward in the 88th minute, wearing Hernandez's jersey.
"I was very happy about putting him in because I didn't want to to it for the sake of doing it," said MetroStars coach Octavio Zambrano, who coached the East. "The guy said, 'Let's do it in honor of Daniel. It was the moment in which I changed my mind and allowed him to go in."
North Carolina wins (Dec. 16, 2001)
The University of North Carolina added yet another national soccer championship to its very impressive collection, although the winner of this piece of hardware did not come from the usual source.
For the past 20 years, the Tar Heels' vaunted women's side had brought home a remarkable 16 NCAA Division I trophies and titles. On Dec. 16, 2001, the Carolina men stepped out of their shadow to earn bragging rights on the Chapel Hill, N.C. campus. They defeated five-time champion Indiana University, 2-0, for their first title.
North Carolina (21-4) combined goals from Ryan Kneipper (six-yard header in the 12th minute) and Danny Jackson (penalty kick in the 75th minute), smart defense and alert play by goalkeeper Michael Ueltschey to upend the Hoosiers (18-4-1) in front of a crowd 7, 113.
Through the years the Carolina men have gotten tired of answering questions about the women's superiority.
"We love the girls team. We want them to do well," Ueltschey said. "We came here to play our tournament and concentrate on things what we do, and that's what we did."
The Tar Heels women lost in the 2001 final to Santa Clara.
"I don't look at it as moving out of a shadow," midfielder Noz Yamauchi said. "I look at it as making history for us. I'm so proud of the team for doing that. Hopefully from now on it will be more of an impact."
One step closer: Indiana stops Santa Clara in extratime in the semis (Dec. 12, 2003)
Jerry Yeagley took one step closer to winning his sixth NCAA Division I title as the University of Indiana edged Santa Clara University in the second extratime in the semifinals on Dec. 12, 2003.
Pat Yates headed the ball in in the 104th minute in an encounter that had but a handful of scoring opportunities.
"He doesn't have style points, looks a little herky-jerky," Yeagley said of Yates. "People might way, 'What's he doing out there!' But I wouldn't trade him for anybody."
In fact, Yeagley probably wouldn't have traded his team for any other squad.
"This team has matured and found a way to win the big game," he said. "That's true test of a championship-caliber team: Can you find a way to win the big games?"