Crystal Dunn was traded to Portland to be closer to her husband. (Outfoxed Media Photo)
After jumping through a couple of hoops via trades Thursday, Rockville Centre, N.Y. native and U.S. women's national team defender Crystal Dunn is now a member of the Portland Thorns.
In the first deal of the day, OL Reign Dunn from the North Carolina Courage for goalkeeper Casey Murphy and allocation money.
The trade occurred prior the Nov. 12 National Women's Soccer League expansion draft and helped to facilitate Dunn's desire to be closer to home with her husband. OL Reign then traded Dunn to Portland.
Portland sent OL Reign an allocation money, an international roster spot for the 2021 season and Portland's natural first-round pick in the 2022 NWSL college draft. OL Reign will receive $150,000 in allocation money upon execution of the trade, $50,000 on January 1, 2021 and additional allocation money conditioned upon Dunn's future playing status in the NWSL.
"I think it's important people realize that this is a new challenge on the field for me, one that's going to make me a better player," Dunn told the Thorns website. "That's really important to me, alongside my home and my family being there as well."
Dunn's husband is Pierre Soubier, the Thorns' head trainer.
Time to see what Portland is all about while hubby is at work😬☺️

— Crystal Dunn Soubrier (@crysdunn_19) January 31, 2019
"I know a lot of people will be like, 'oh, she wants to be with her husband,' " Dunn told the Thorns website. "Iit's no secret that family is really important to me."
The couple worked together when she played for the Washington Spirit, before they were married.
"I get very attached to my environments because I give my all for any team that I play for. So this move has been hard," Dunn added.
"We are delighted to add a world-class player to an already talented group," Thorns FC general manager and president of soccer Gavin Wilkinson said in a comment. "Crystal has proven herself on the international level and been a dominant player in the NWSL for many years. Her professionalism and presence will reinforce and add to the strong culture we have in this club."
A member of the 2019 world champion U.S. women's national team, Dunn has forged a reputation as the world's most versatile women's player, having stood out on defense, midfield and forward.
Dunn is a six-year NWSL veteran. The 28-year-old midfielder began her career with the Washington Spirit (2014-16) and played the last three seasons (2018-2020) with the Courage while performing one season (2017) with Chelsea in the FA Women's Super League.
She secured NWSL MVP honors in 2015 along with the Golden Boot, recording a league-best 15 goals. The one-time University of North Carolina standout earned NWSL Best XI accolades in 2015 and 2018, and NWSL Second XI honors in 2016 and 2019. During her NWSL career, Dunn has appeared in 89 games (81 starts), recording 32 goals and 20 assists.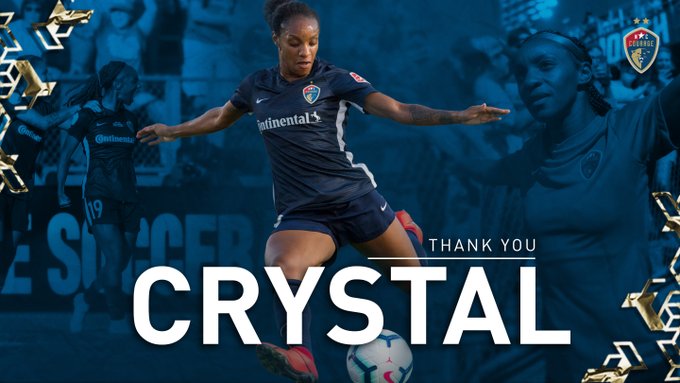 "Crystal is a game-changer, and with her intelligence, dribbling, passing and finishing ability, she can unlock a game in a split second, while her defensive qualities and work rate make her as impactful off the ball as she is on it," Thorns FC head coach Mark Parsons said in a statement. "She has a winning mentality, a contagious personality full of positivity and the desire to be the best and make people around her the best."
Dunn played her youth soccer with the Albertson Fury and South Side High School on Long Island.
"Crystal has been an integral part of the Courage success story," Courage head coach Paul Riley said in a statement. "Her professionalism and performances at our club have been nothing short of fabulous. Sometimes a player's personal needs take precedent and we wish her a successful future with her new club."