eyJpZCI6IjkzMjY2MzQwIiwibmV0d29ya0NvZGUiOiI5NDIwOTk0MCIsImVmZmVjdGl2ZVJvb3RBZFVuaXRJZCI6IjkzMjEwMDYwIiwibmFtZSI6IkZyb250VG9wIiwicGFyZW50UGF0aCI6eyJpZCI6IjkzMjEwMDYwIiwibmFtZSI6ImNhLXB1Yi0zMDYxMTc2MDkyNzY2MzI4IiwiYWRVbml0Q29kZSI6ImNhLXB1Yi0zMDYxMTc2MDkyNzY2MzI4In0sImFkVW5pdENvZGUiOiJGcm9udFRvcCIsImRlc2NyaXB0aW9uIjoiIiwiaXNGbHVpZCI6ZmFsc2UsImlzTmF0aXZlIjpmYWxzZSwiYWRVbml0U2l6ZXMiOnsic2l6ZSI6eyJ3aWR0aCI6IjcyOCIsImhlaWdodCI6IjkwIiwiaXNBc3BlY3RSYXRpbyI6ImZhbHNlIn0sImVudmlyb25tZW50VHlwZSI6IkJST1dTRVIiLCJmdWxsRGlzcGxheVN0cmluZyI6IjcyOHg5MCJ9fQ==
Eric Wynalda had an 11-18-5 record with the Lights last season, playing to a draw in its only match in 2020. (Photo courtesy of the Las Vegas Lights FC)
By Michael Lewis
FrontRowSoccer.com Editor
Eric Wynalda was fired by the Las Vegas Lights FC on Wednesday night.
No immediate reason was given for the sacking of the controversial and outspoken former U.S. men's national team star, although the USL Championship club confirmed the news on Twitter:
"Effective immediately, Eric Wynalda is no long head head of Las Vegas Lights FC. We continue to be hopeful that Lights FC will return to play later this season provided a safe environment can be assured for our players, fans and staff."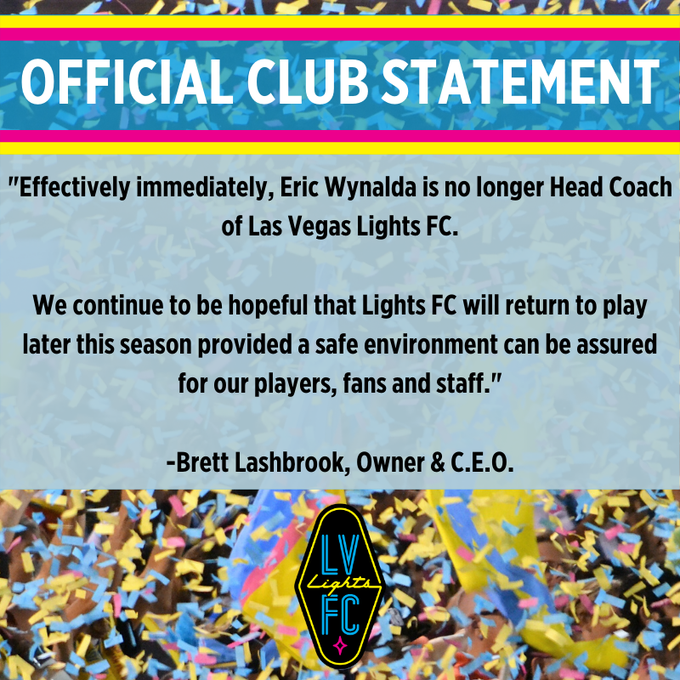 Lights owner Brett Lashbrook told the Las Vegas Review-Journal: "Obviously, the timing of this is not ideal. We'll do [our coaching search] in an expedited manner but also in a smart manner."
Wynalda, who has forged a reputation of speaking his mind to reporters and as a commentator with Fox Sports and ESPN, just had this comment via Twitter at of 9 p.m. ET on Wednesday night:
"Thank you @lvlightsfc – miss ya already"
The Lights finished 11-15-8 last season under Wynalda and played to a tie in its only match this season before the COVID-19 pandemic stopped play. The league has a tentative July 10 return date.
Intrestingly, only a week ago, the Lights put this up on Twitter about Wynalda when he celebrated his 51st birthday on June 9:
"LEADER, MENTOR, FRIEND, LEGEND. Congratulations to the one and only (@Eeric_Wyanlda)! Happy birthday Coach!"
Wynalda played for the U.S. national team at the 1990 World Cup, the first time the Americans had qualified for the world's greatest sporting spectacle in 40 years.
He made headlines in the first game against Czechoslovakia, a 5-1 loss, but not for his scoring prowess. Wynalda holds the dubious distinction of being the first American to have been red-carded from a World Cup match, which occurred in the 53rd minute.
Putting that episode behind him, Wyndala forged a reputation as an international goal-scorer (34 goals in 106 appearances). One of his most memorable was that spectacular free kick in a 1-1 draw against Switzerland in the group stage of the 1994 World Cup, despite a rash over his entire body. That point helped the U.S. earn a spot in the knock round.
Wynalda first demonstrated his scoring ability for the Westlake Wolves in the AYSO, outscoring the rest of the division (58 goals). It continued at Westlake H.S. as a three-time All-California selection and at San Diego State, helping the Aztecs reach the 1987 NCAA Division I final and finishing with 34 goals and 24 assists. Signing a pro contract with U.S. Soccer in 1990, Wynalda left school. He ventured overseas to play for FC Saarbrücken and then VFL Bochum in Germany before coming back home to play for the San Jose Clash.
His MLS journey took Wynalda to the Miami Fusion, New England Revolution and Chicago Fire and as a coach for the Atlanta Silverbacks, Los Angeles Wolves and most recently the Lights. Wynalda is a member of the National Soccer Hall of Fame.